High Temperature Cable: High Temperature Cable Suppliers in South Africa
Sai CabTech is a renowned supplier of high-temperature cable in South Africa.  We are counted among as a unique entity in the market, actively committed to offering the finest range of High Temperature Cables. High-temperature cables from our company are designed using advanced materials and technologies that ensure exceptional performance and reliability.
These cables can be used up to 1200° F for fire safety or firefighting applications. Our high-temperature cables are made of fiberglass, ceramic fiber, and carbon insulation for added security. Also, these are suitable to work with large current loads in high-temperature environment conditions, for example, wiring furnace heaters, ovens, and industrial wiring.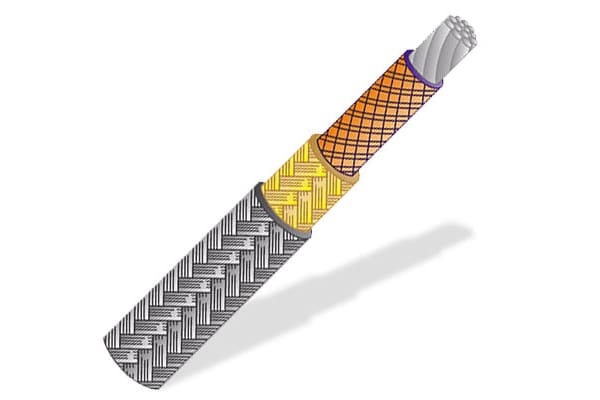 High Temperature Cables offered by our company are specifically designed by our experts using the highest quality raw materials. They are also manufactured in our highly developed manufacturing facility. Additionally, these cables are generally used in numerous functions like light fittings, and can also be utilized for commercial lighting purposes. Cables of this quality are well-finished, approved, and constructed according to strict specifications.
We have a team of well-qualified and experienced quality analysts, who check these High Temperature Cables, and Copper Flexible Cable at various stages.
Application of High Temperature Cable
⇒ Aerospace Industry: Sai CabTech's high-temperature cables are frequently utilized in the aerospace sector for applications such as aircraft electrical systems, avionics systems, and engine wiring. In order to guarantee dependable and secure functioning, these cables are made to endure severe temperatures during flight.
⇒ Automobile Industry: Our high-temperature cables are widely used in the automobile sector, notably in electrical wiring, exhaust systems, and engines. These wires can endure extreme heat from engine parts and offer effective signal and power transfer.
⇒ Oil and Gas Sector: The oil and gas industry operates in arid and hot conditions. Sai CabTech high-temperature cables include petrochemical facilities, offshore platforms, and refineries. These cables resist temperature stress, corrosion, and mechanical harm.
⇒ Power generation: High-temperature connections are necessary for power generation facilities such as thermal power plants, nuclear power plants, and renewable energy installations. They are employed in countless components including control systems, turbines, generators, and boilers. They can resist high temperatures and sustain dependable electrical transmission in these locations.
⇒ Industrial Applications: Industrial operations, including glass manufacturing, heat treatment, and metal smelting, entail high temperatures. High-temperature cables from Sai CabTech are built to endure these harsh temperatures and offer safe and effective electrical connectivity for machinery and equipment.
You can expect high-quality products that meet universal standards by choosing Sai CabTech as your high-temperature cable suppliers in South Africa. To ensure durability, effectiveness, and safety in demanding conditions, our cables are made using stringent quality control procedures. To discuss your unique needs and benefit from our knowledge of high-temperature cables, contact us now.