Sai CabTech Private Limited provides solar panels as a revolutionary option for office buildings in Gujarat by embracing the power of the sun. Sai CabTech provides a route to utilizing clean and renewable energy for office buildings in the center of a state renowned for its industrial strength and dedication to sustainability.
The idea of solar panels for business buildings fits Gujarat's agenda of development and environmental awareness nicely. The area receives enough of sunlight all year round, making solar energy a strong substitute for conventional power sources. Sai CabTech is an expert at designing solar panel systems that are specifically tailored to the distinct energy needs of office buildings, enabling a smooth integration with the existing infrastructure.
Solar Panels | Solar Panels for Office Buildings in Gujarat
Office buildings may considerably lower their carbon footprint and enjoy considerable energy bill savings by incorporating solar panels. This double advantage benefits a company's profit line while simultaneously advancing the larger goal of environmental preservation.
The knowledge of Sai CabTech goes beyond functionality. The business makes sure that the solar panels smoothly merge into the aesthetics of the structure since it acknowledges the architectural value of office buildings. By combining form and function, solar energy systems guarantee that they not only power the building but also improve its aesthetics.
Adopting solar panels for business buildings has ramifications beyond short-term advantages. Solar energy investment shows a company's dedication to innovation and sustainability. Clients, partners, and stakeholders that value ecologically friendly activities are sympathetic to this dedication.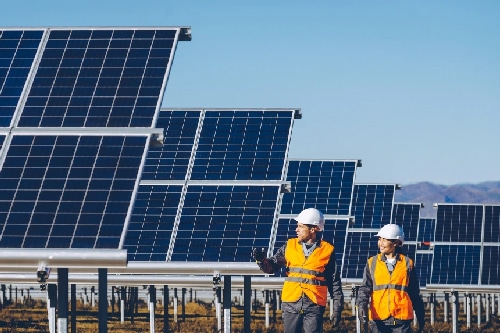 The incorporation of solar panels for office buildings is a prime example of Gujarat's innovative corporate culture, where tradition and modernity coexist. Sai CabTech's commitment to providing individualized solar solutions equips office buildings to act as change agents and contribute to a world in which renewable energy sources are the norm.
Sai CabTech's solar panels for office buildings in Gujarat sparkle brilliantly as a new era of energy consumption dawns, blazing a road toward more environmentally friendly, sustainable corporate operations.