The use of solar panels in Gujarat workplaces stands out as a tempting alternative in the search for sustainable energy solutions. Sai CabTech Private Limited offers a way to power commercial premises with renewable energy sources among Gujarat's thriving corporate climate, where economic prosperity and environmental concerns coexist.
Modern energy efficiency and environmental responsibility are represented by solar panels. Gujarat offices can produce clean, sustainable power by utilizing the region's year-round abundance of sunshine. In order to ensure a seamless connection with existing infrastructure, Sai CabTech specializes in designing solar systems specifically adapted to the distinct energy requirements of businesses.
Solar Panels | Solar Panels for Offices in Gujarat
Businesses may significantly lower their energy costs and help to decrease greenhouse gas emissions by installing solar panels in their office buildings. This supports Gujarat's pioneering ecological initiatives and reflects the appeal for responsible energy use around the world.
Designing solar panel systems that are not only functional but also visually beautiful is Sai CabTech's area of competence. The business understands how crucial it is to preserve office aesthetics while utilizing solar power. Their ideas successfully combine style and utility, improving the entire office setting.
Solar panel advantages go beyond financial savings and environmental protection. Solar-powered workplaces show a dedication to innovation and ethical corporate conduct.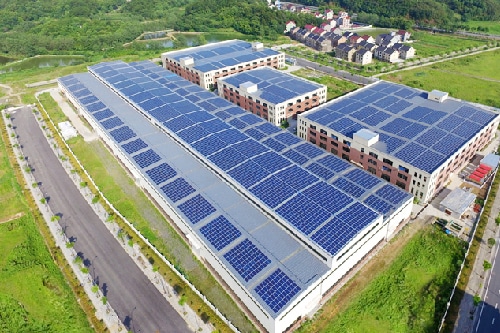 Such programs may improve a company's reputation and draw in environmentally conscientious customers and partners.
The use of solar panels for buildings speaks to Gujarat's commitment to development and sustainability as the economic landscape in the state keeps changing. Providing companies with the ability to lead by example and demonstrating that economic progress and environmental responsibility can live peacefully is what Sai CabTech does.